Ceramic Underglazing with Speedball
May 12, 2021
Ready to give your ceramics a pop of colour?
This is a  helpful walkthrough to the fundamental techniques for decorating with underglazes, this how-to breaks down the steps to creating beautiful designs on bisqueware with Speedball Underglazes.
Speedball Underglaze Colours are liquid, opaque colours that are excellent for detailed painting, sgraffito and decorative applications in general. They can be applied to greenware or bisqued items and will not run or bleed.
Material:
– Pencil
– Water  
– Bisqueware
How to do it yourself:

1 . Draw the outline of illustration on a bisqueware with pencil.
2 . Thin down the underglaze.  
Top image: Speedball Underglaze straight out of the bottle. Bottom image: Preferred thinness for a smooth application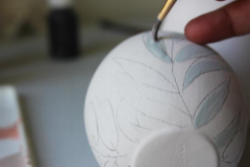 3 . Fill in with coloured underglazes inside the pencilled outlines. Speedball Underglazes are quick to dry and heavily pigmented so only 1 or 2 coats are required and there is no required wait time between underglaze coats.
4 . Fill up an applicator bottle with black underglaze and use an 18-gauge tip to get fine lines. (If necessary, add a drop of water in black underglaze to get your desired consistency.) 
5 . Glaze the piece with clear glaze and fire it at cone 6  2232 F
---
Learn more or get some good tips
Join skilled ceramic artist Yesha Panchal as she walks you through a few techniques and uses for Speedball Underglazes. Yesha will introduce participants to underglaze trailing – a unique ceramics decorating technique to create patterns using fine lines on your ceramic pieces. In this demo, Yesha will demonstrate the process of drawing with underglaze on ceramics. We will discuss in more depth about slip trailing tools and their varying gauge tips to produce different line weights using underglazes. For this specific demonstration, Yesha will be using melon, soft pink, teal, blue frost, and black Speedball Underglazes to show how you can approach painting on ceramics using underglazes. This demo will be fantastic for both ceramic artists waiting to explore more techniques and creative individuals interested in watching the ceramic decorating process!