Coping Through Creativity
April 8, 2020
We're discovering how creativity is helping us cope with these unprecedented times. Over the past week, you've been sharing some wonderful ideas and inspiring stories. The response has been incredible and we'd like to thank everyone for sending in their contributions. Here's a small selection of some of the different ways you're transforming your fears and vulnerabilities into power and courage. 
A vibrant garden explodes from Diana Zoe Coop's countertops and fridge, spilling an eruption of colour onto the kitchen floor. It's a creation so vividly alive you're almost engulfed in floral scent. 'As the isolation has intensified, so has my immersion in creating a magical space for myself in my home.' Diana is determined, sharing her painted botanical bursts online to 'brighten people's days and bring some levity to the sober time in all our lives.'
Meanwhile, Ali Lake is short on art supplies. Instead of starting brand new pieces, she's dug up dozens of old acrylic paintings from her childhood to paint and collage over. With no particular goals, she finds this low pressure exploration therapeutic on many levels. 'Looking inward and backward has revealed a wealth of material,' Ali says, allowing space to rehash bygone ideas and converse privately with her past self. Much of her previous output dealt with themes of depression or isolation. 'Ironically, as I work them over during Covid times, I now feel a sense of connection and belonging, at least in terms of the relationship with my painting.' For Ali, this process of open-ended, daily art making transforms a feeling of scarcity into a feeling of plenty: 'I do not have enough paint, but I have enough old paintings to keep creating.'
Linda Tyler has recreationally dabbled with watercolor for years. She tragically lost her mother mid-March just as all the Covid isolation warnings took hold. It is undeniably a very difficult period for her, but she's finding the extra time to create a cathartic way of processing grief. 'It has been so therapeutic for me … I've attached a painting I did of the flowers on the window sill of my mom's room in Peace Arch Hospice. They were very unusual tulips. I will always remember her with them and be reminded of this difficult time.'
Art plays a big role in Kacy's household. Now with her boys being homeschooled, it has become even more integral. Every afternoon the family sits down for an art class. This usually starts with a video tutorial and then settles into quiet, creative time. 'We are all learning new things. Art brings us together tightly; it calms us down.' Each session finishes with a presentation and discussion of their work, plus a nomination for "best piece of the day" – an accolade earning the winner coveted space on the wall.
'Well you know this toilet paper stockpiling that is going on? I really wonder – do these people have large families or are they just finding a sense of security in the fact that if all else fails, they've got loo rolls covered?' Kerry Seifried, acutely aware of the sadness surrounding those affected by Covid, is using humour to help see her through, sanity intact. Her toilet paper series so far includes, "The Roll", "The End Of The Roll" and "The Stash" and she intends to keep churning out one a week for the duration of the pandemic, 'or until the toilet paper runs out.'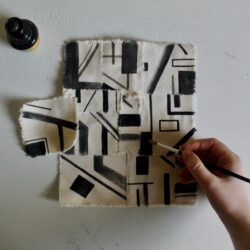 Finally, Anneke Dresselhuis says making art has helped her 'navigate transitions into the new tempo brought about by Covid.' Engaging in creativity has provided the space to acknowledge and work through her fears and vulnerabilities. 'While I cannot avoid these feelings, I can choose to not let them consume me. Instead, I can use them as subject matter, piecing together the new rhythms of my daily life. Creative endeavours allow us to assemble the broken pieces of these troubling times into defiant narratives of beauty and courage.'
---
Article written by: Chloe Battant