Creative Summers – Round Two
August 31, 2020
With Labour Day just around the corner it's nearly time to close the doors on our Creative Summers Gallery, but not before we show off one final round of some of your spectacular work! It's been brilliant to see so many of you taking part and wow, you've really shared some wonderfully imaginative projects and compelling stories over the past few weeks! This concluding selection displays a rich array of art and innovative ideas which we hope will inspire you far beyond the holiday weekend.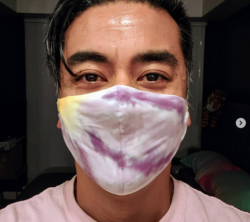 John Rodriguez – Masked Encounters
Made a new mask using viscose I picked up from Dressew. It's super comfortable and breathable, soft and smooth on my face. Picked up some fabric dye from Opus, thinking I'd try my hand at painting to get a watercolor effect. It's supposed to be a close-up crop of a flower. Uhhhh, abstract… yeah. I like the colors though. I was wearing it while walking down Main Street. As I passed this older gentleman he made a long, loud fart sound with his mouth. For a split second I felt hurt and defensive. Was he a racist, farting at me cuz I'm POC? Was it toxic masculinity, farting at me cuz I was wearing a purply floweryish mask? Then I started laughing out loud cuz making farty sounds with your mouth in public is funny. Thanks guy!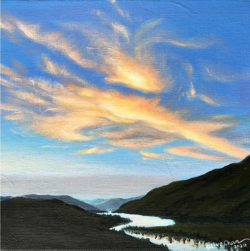 Olive Chan – Kamloops Sky II
This is the fifth piece I painted while we were on vacation at the beginning of the month. This is another version of "Kamloops Sky I" with a more violet sky. I had only brought one small canvas with me to paint as a souvenir of our trip and this cloud captivated me the most. It will always remind me of the first night we arrived.
Kate Jones – Earth Sketch
I've been attempting to paint a scene from every country, alphabetically, using Google Earth. Next stop on my sketching journey around the world, Australia!
Carla Wolf – Portrait
My original plan for this summer was to take courses at ECUAD. When that option closed I found a group of painters online. We met once a week via Zoom and challenged ourselves to look at a painter we admired, and do something in their style. I choose Egon Schiele. The image is of my partner with her "pandemic" hair. I purposely set her in an almost empty space to give a sense of the isolation we have all faced this year. There is nothing in the composition to invite you in – she sits contained, separate and looking out. 
Gwenda Ellwood – Ponderosa Pines
I painted this "married couple" of Ponderosa pines using my ultra-portable Inktense pencils and paint blocks by Derwent. My en plein air kit is completed with an extra light mountain-climbers' stool. It was lovely sitting in front of those trees and soaking up their loving vibes.
https://www.instagram.com/gwenda.ellwood/
Bethany Giesbrecht – River Otters
Has anyone else noticed the otters in the river lately? I love watching them play in the water. This is the time of year that they should be fat and eating plenty, thanks to the salmon run, but I'm guessing the Big Bar rockslide on the Fraser is probably still making that food source scarce this year.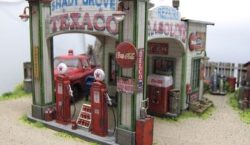 Karl Fasolino – Diorama
Here's a summer creative project I am still working on. I built the 1/48th scale model diorama and painted it by hand with acrylic paints and an Iwata airbrush. The weathering and details are all hand-painted and weathered with Pan Pastels, acrylics and other similar materials. All the signs are made from paper and printed on matte artist paper. Many of the parts and details are 3D-printed and made with cast resin. Loads of fun!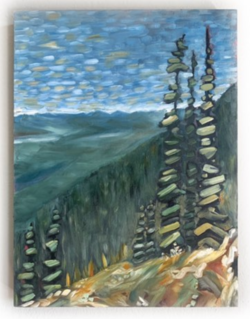 Jordan Fritz – Inspired by Home 
When Covid hit in April, I had to make the tough decision to leave my home on Vancouver Island, my partner and dog, and head deep into the woods of Northern British Columbia to work in an isolated bush camp for 3 months. While I was away I was able to sketch and do some small paintings, but since being home I have gotten back out to the places that inspire my art. This particular piece was from a recent hike and climb up Mt. Arrowsmith outside of Port Alberni. The hike was intense, hot, steep and at some points so high we were looking down hundreds of feet to the forest floor, but we were rewarded with clear skies and the most amazing 360 degree view of waters surrounding Vancouver Island, plus we got to camp in our sleeping bags at the summit. I'm excited for many more paintings celebrating this amazing place we call home.
Garrett Moon – Everybody Chill
It's a strange time, it's a tense time. I find I often don't feel the levels of concern, the stress, the frustration that are simmering inside – we're all feeling it, so it's easy to try to shrug it off. But it always creeps up, and every little get-together eventually turns into a roundtable of questions none of us have answers to. It's hard to remember that there are smarter people than us losing sleep over it all. We will make it through this, with their help and by following their advice. Those of us here in British Columbia are the most fortunate people in the world. In the meantime…
Patricia Sparks – Peace
Most of my art work is done to show the beauty of the black culture and for people to start standing up against racism.. This piece was inspired by a young girl who has lots of spunk and it is called "peace" she makes you smile when you look at her and at the moment in history we really need to see some peace and happiness.
This piece i wanted lots of bright colors with acrylics then using oils for the skin. Once it was dryed i applied a thin layer of resin over just the girl and on top of that a fine crushed glass.
On that note, it's time to pack the bags and head on home. Our heartfelt thanks to everyone who's participated in this extraordinary project. What a talented, artistic, and engaging community!
Please check out the Creative Summers Gallery to see everyones contributions!
There'll be more opportunities to share your work over the coming months but in the meantime, please stay safe and keep creating. We look forward to seeing you all again very soon.