McCracken Black by Daniel Smith
April 19, 2021
McCracken Black a versatile black that can produce a range of neutral grays, ideal for creating a realistic look to metal objects and adding remarkable depth to a dark background that is inspired by the Dutch painters of the 16th and 17th century. 
Master Artist Laurin McCracken worked with DANIEL SMITH Chemists to develop a black that is neutral, not blue or brown. One to which he can add small amounts of color to make it warm or cool so that it can change and enhance the feel of a painting when desired. It has a degree of transparency as he often paints with a very dark background over an underpainting.
McCracken Black is a complex black, with a low level of granularity so that the smooth surfaces of metal, like polished silver, in a still life can appear as realistic as possible.  McCracken Black has 1- Excellent Lightfastness,  2-Low Staining, Granulation and is Transparent.
---
Laurin McCracken:
I am a realist watercolorist whose work is largely influenced by the Dutch and Flemish Still Life painters of the 16th and 17th Centuries.
"My goal is to record the world around me with a high level of detail."
This is not a painting style that is typically associated with the medium of watercolor. Look closely at one of my paintings and you will not only see the objects in the painting, but you will also see reflections of other objects within the very objects I paint.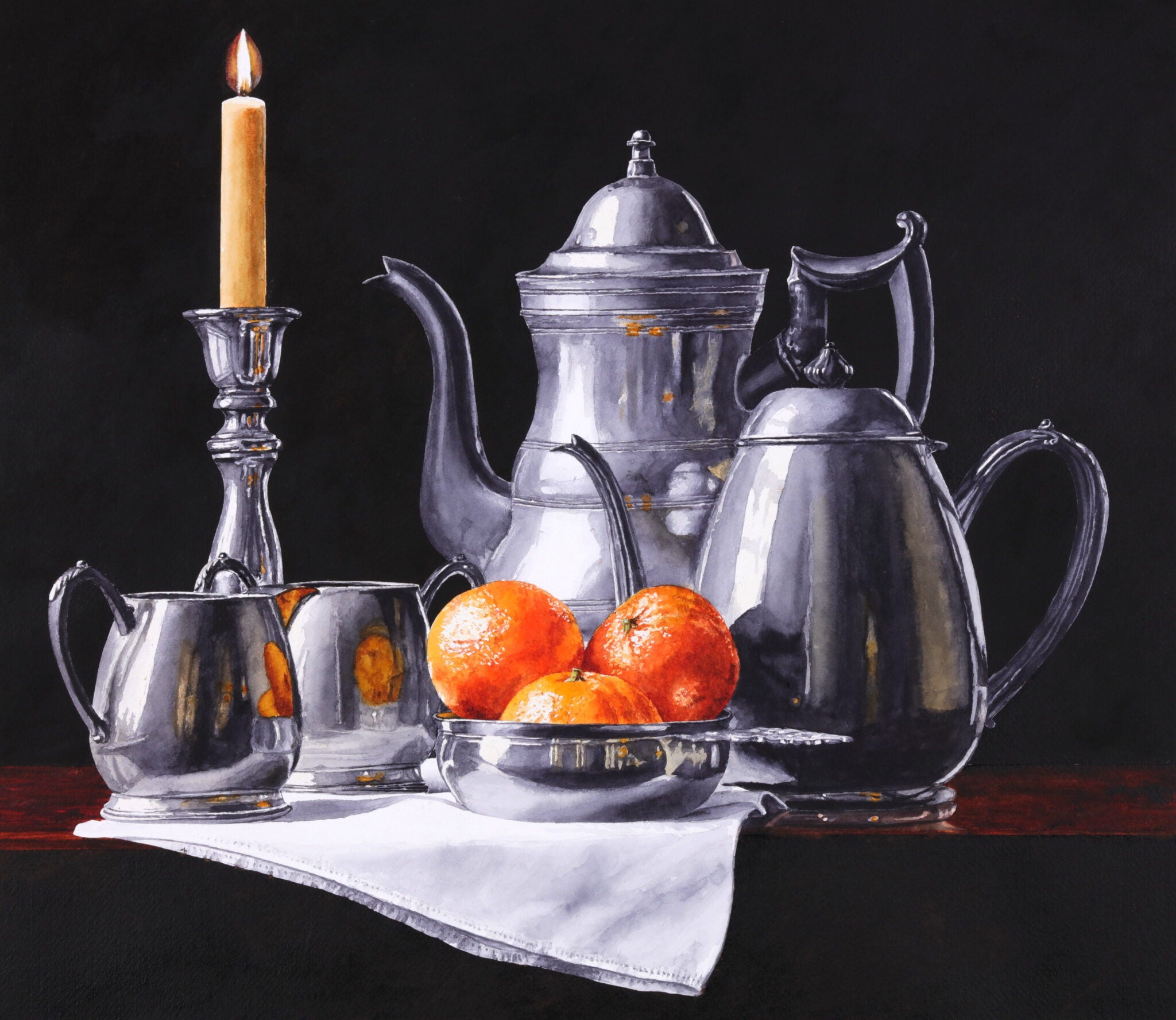 During my 50-year career as an architect I learned to look at the world and objects in it in great detail. Now, I use my ability to see things with a high level of acuity to transcribe what I see in the world around me into watercolor on paper. I use this historic influence to record the beautiful things in our lives: the flowers, ornate crystal and silverware, clouds, the glassware I grew up with, toys and anything that attracts my eye and spurs my imagination.
When I look at the world and think about what I might paint I am reminded of the quote from Henry David Thoreau: "It is not what you look at that matters, it's what you see that matters." Then I ask myself, "Can I paint that in watercolor?"
Not every painter can see things uniquely, but it is imperative that a painter see things differently and with a certain clarity that the average individual might not see. That is the value we bring to our craft. It is the combination of those abilities and a fundamental mastery of the craft that makes us artists.
---
Artist Bio
Laurin McCracken combines many of the skills he learned as an architect with his experiences of studying art history, drawing, taking photographs and visiting many of the world's leading museums to use as a watercolorist.
Born in Meridian, Mississippi, he studied at Auburn University and holds a Bachelor of Arts and a Bachelor of Architecture from Rice University and a Masters in Architecture and Urban Planning from Princeton University. He currently lives and paints in Fort Worth, Texas.
---
DISCOVER THE BRAND