What We've Learned From A Month of Experimentation
January 26, 2021
This past month, we've learned that when we are too self-critical of our work, our fresh ideas get crushed before we even get a chance to explore their possibility. And remember, it's totally okay if they turn out to be, well, bad! Sometimes getting a bad idea out of the way clears room for a good idea, which seems to be exactly what we've been seeing from what you have all been sharing with us this month.
As January draws to a close and we reflect on what we can carry forward from our month of Re-imagining and Experimentation, we hope you've been able to shake off some of that pesky self-doubt and that you've allowed yourself to create without judgement! Take a look below at the chances your fellow artists have been taking in their art practices these past weeks, and be sure to let out any last ideas that have been percolating before we move onto the next phase of the creative cycle: Daily Practice!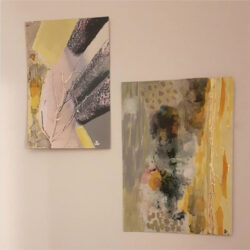 Janet Kvammen
I made a tiny yellow and grey painting a couple weeks ago inspired by the pantone 2021 colours of the year…and also to challenge myself and experiment with using the colour yellow. I made three more in a similar colour palette. I am calling my new little series "It Was All Yellow" after the song "Yellow" by Coldplay. …look at the stars see how they shine for you!!!
Today, I experimented with iridescent watercolour medium and it was so much fun! The medium transforms ordinary paints into iridescent ones. Here's a picture of some of my watercolour paints mixed with the medium. I experimented with different concentrations of iridescent medium as well as paint and I'll be posting pictures of the results in a couple of days.
Sichen Grace
Illustration inspired by the long-distance connections created by the pandemic. I miss my friends😔…
Olive Chan
Going with the theme of "Try," which is my word for this year, I participated in my very first IG Live paint session with the lovely @msantosart yesterday. We had so much fun chatting about life and art, and getting to know each other a little, while each doing our own renditions of a sunrise photo I'd taken a couple weeks ago.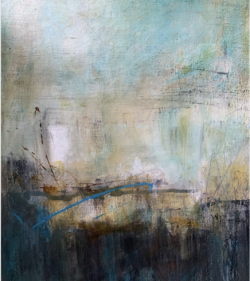 Janet Roth
In my attempt to create a loosish landscape I ended up with a tightish abstract .. oh well at least I like the colours
Naturescapes • Alcohol Ink on Stone Paper. Experimenting with alcohol ink techniques.