A Guide to Princeton Brushes & Tools
January 12, 2021
Find the Perfect Brush
Princeton Artist Brush Co. is one of the largest brush-makers in North America. Since their start in 1992, artist brushes have been the sole focus of Princeton. Other brush companies make paint, paper, canvas, pastels, and easels. Princeton makes one thing: the best quality, most fairly priced artist brushes available today.
In this article we have compiled resources to give you a comprehensive guide to using Princeton Brushes.
---
The Velvetouch Long Round
The round brush is a traditional shape that includes spotters, short liners, script liners, the basic round, and Princeton's new long round. The Velvetouch Long Rounds were developed over several years by the expert brush makers at Princeton and a team of artists for performance, durability, and quality. It is a premium blend of luxury synthetic, tapered to provide precision and fine detail, while the full-body provides a controlled release of color.
The difference between a long round and a traditional round is the shape of the belly, the gradual taper, and the length of the hair.
Fine artist, Jamie Dougherty displays the incredible colour holding capacity and release of a long round in this sample swatch art from Princeton's free project, Yellow Blossoms. The long round creates both beautiful washes and fine lines with ease. One incredible long round…for a world of colorful applications.
---
Explore various Round Brushes and how they can be used
---
Explore various Flat Brushes and how they can be used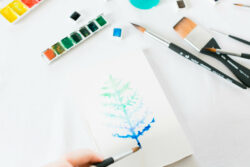 ---
Explore Specialty Brush shapes and how they can be used
---
Explore Catalyst™ Blades, Mini-Blades, Wedges, Contours and how they can be used
---
Article made available to us from our friends at Princeton. 
---
SHOP PRINCETON PRODUCTS