Mastering The Art of Creative Entrepreneurship & Flourishing From The Ground Up: Camilla d'Errico
September 24, 2020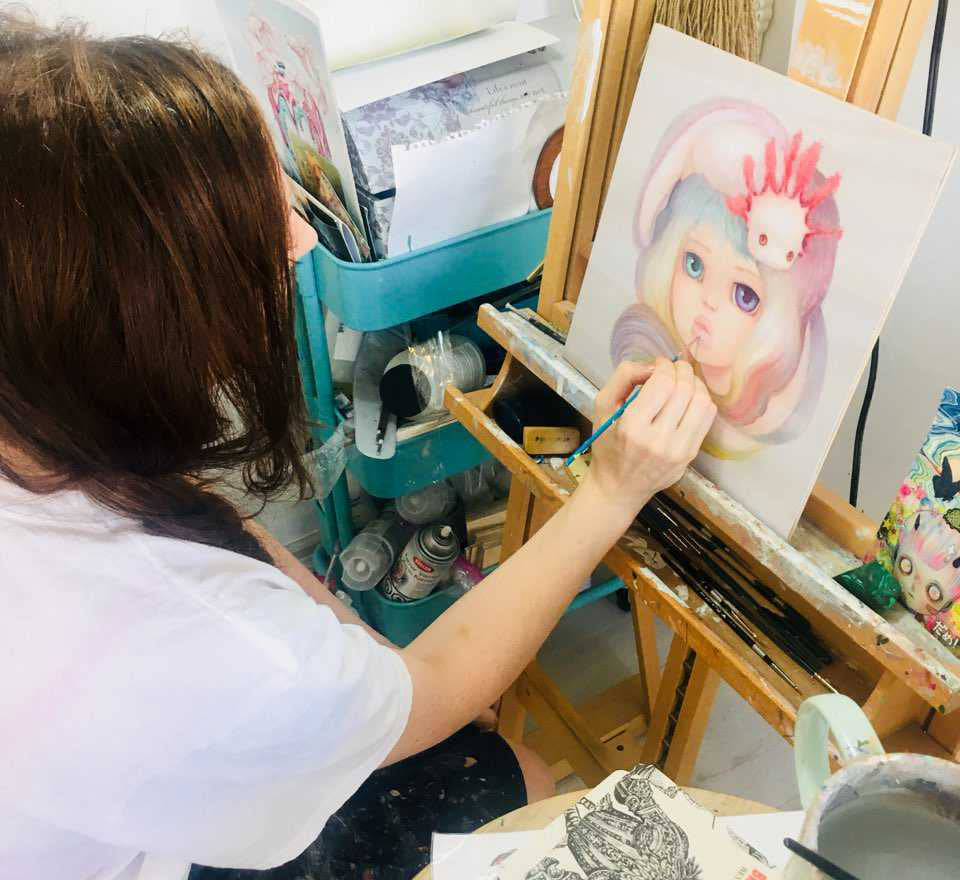 Manga-influenced, Italo-Canadian artist and Opus alumna, Camilla d'Errico has amassed a huge, loyal following whilst carving out a unique niche in her target market. A pop surrealist painter and comic book creator, she also contributes to the vinyl art toy movement and is expanding her style into fashion, accessories and other merchandise. Camilla is a passionate advocate of the Holbein Duo Aqua Oils and displays deep expertise. We're extremely proud and excited to welcome her back with a bespoke how-to video and upcoming virtual demo on this incredible product. Before she graces our screens, we caught up to discuss art, business, her ongoing love affair with a particular brand of water-soluble oils, and some future creative endeavours.  
I wasn't actually intending to be a painter, I was intending to be a graphic novel artist. It was an interesting transition. I had done some illustrations for a snowboard company and approached a gallery in Vancouver which was doing a show on the subject to see if they wanted to sell the boards, but they were interested in the original designs. Because of my background, I was used to seeing art on product and realised this was something I could develop. I started with prints because that's all a starving artist can afford, then moved into mouse pads and began slowly building. It was a cautious process and I learned to do limited editions before I even knew what a limited edition was. You have to walk before you can run. That's not to say I didn't make my own mistakes – I did end up with a lot of plushies which I sat on for years – but even if buying in quantity seemed like a better deal at the time, now I never supersize. I always get the smaller thing because I know I'll actually finish it versus having a little bit left that's basically wasted money. 
"I learned a lot about business through my sister and today have numerous partnerships. Lots of companies want me to work with them, but I have to make sure that they're good business people too."
Someone might have a really great idea but if they don't know how to market it or how to do customer service, then everything falls apart. For me, customer service is a huge, huge factor. I want my customers to know that I'm listening and will do my best to make sure they're happy. 
From 13-year-old girls to ladies in their 60s, I have quite a big demographic. There are men who enjoy my art as well but I really target women. I don't think it's necessarily on purpose, I'm just creating things I would appreciate myself. When I want to produce wearable art, I think about how comfortable it would be and whether it's one size fits all. No one wants to buy something that doesn't fit or is made with bad materials. I spend a lot of time on quality control and a lot of time really designing every single item. I think there's a high degree of trust when people purchase from me – they know they're going to get a quality product. I work with small businesses, with printers that are eco-friendly, and I only make vegan merchandise because I don't believe in animal cruelty. 
Last year I sold mostly on Etsy but this year, I tried something different. All my prints are available through my custom print shop, which allows people to choose what size and paper they'd like. I do this to be mindful of people's budgets. For me, if somebody can only afford a little 8×10 print it's still an honour that they would want my art in their home, so I give them that option. 

"I wish I knew how I got such a big social media following. I haven't had one giant project that really skyrocketed me or anything, I just put myself out there and I think the support's grown from a decade of working really hard and engaging with people online. "
I grew up admiring artists and started going to comic conventions as a fan in 1998. I've been on the other side and to now have my own booth is really humbling. I want my fans to enjoy the same incredible experiences I did. I wouldn't have any of this without them. Unfortunately, I can't give all the time in the world and this year, COVID-19 has really hit me hard. I'm constantly having to think on my feet, rearrange things and focus a lot more on logistics which means I haven't devoted as many hours as I'd like replying to direct messages. But I do my best and try to comment as much as possible because I think my fans are connected to me in a way where I feel very connected to them as well. Art is very personal. I want them to know that I'm listening and actually reading what they're saying.
Since the start of the pandemic our industry's changed but the virtual conventions are actually a lot of fun. Many people get left out when they can't physically attend an event. Now I get to put all of the exclusives that I made for these specific cities online and fans around the globe have access to them. Everyone is able to participate. I'm the type of person who wants my art to be enjoyed by all and feel that's where the future is – to actually allow the whole world to take part. Going forward, my motto is to make sure everybody has the chance to own something really unique and special, something to look forward to.
When I graduated from university I had to get a day job. I'd been shopping at Opus for years and it was one of my favourite places (any artist will say the same). One of the things the store did was make all their employees do live product demos. I remember just being like, 'Oh, no, I can't do it. I hate public speaking!' But it was such an amazing experience. What I learned at Opus I've carried through my whole career.
"One of my first demos was using these water soluble oils and I found the difference between Winsor & Newton and Holbein was night and day."
Holbein Duo Aqua
are so creamy and beautiful – for lack of a better word, delicious. Through that experience, I discovered a new medium and it changed my life. I stopped using acrylics and oils, because the Holbein  Duo Aqua was the best of all worlds. It could be used as a watercolour, it could be used as an impasto, it could be used like acrylics with acrylics. It was this very, very versatile medium and as I started to paint with the Holbeins, I started to paint on wood because again, Opus was like, you've got to try the wood panels. And so I did and I fell in love with the combination of the Holbein Duo Aqua and birch. 

"I've been an advocate ever since and I tell everybody! My love for this product inspired me to write a book about painting that's basically like the Bible to the Duo oils."
People don't necessarily know what to make of them and they're missing out on something that is just the most beautiful medium. The guide is written step-by-step: it really explains in a very natural, friendly way how to use these paints. I hope that anyone who picks up the Holbein Duo Aqua will pick up the book and feel more comfortable exploring them!
Next year I'm showing at the Dorothy Circus Gallery in Rome. I'm incredibly excited about it. Because this past year has been so turbulent, I want to express a lot of positive emotions. I'm also working on a new graphic novel and a series called 'Spectrum Girls', which people can collect to create their own rainbow arc at home, plus I have another solo show in Australia at the end of March 2021. 
There are still things that I have to check off on my bucket list but in the meantime, I'll continue to be as smart as I can about what I do and the products I make.
Camilla will be demonstrating her process and expertise using the Holbein Duo Aqua in a live online demo, October 18th at 11 am PST – Click here to find out more and register!
---
For more about the artist and her work,
check out Camilla's website and follow her on social media!
Website: camilladerrico.com
Instagram: camilladerrico
Facebook: camilladerricoart