Canadian Faces
June 10, 2020
Oh Canada, A Virtual Art Tour is off to a flying start! We've been exploring the theme 'Canadian Faces' and your response has been incredible. There have been so many outstanding submissions that whittling them down has been an almost impossible task. Here is a small selection of some of the incredible people, both past and present, who make up our nation.  
'Florence' – Grandmother
Artist : Darlene Tully
My grandmother is 102 years old and she is the best person I've ever known. Florence was born in Manitoba in November 1917, at the height of the First World War, not long before the 1918 pandemic rampaged across Canada. She lived through the Great Depression and the Second World War. She saw the vast changes that manifested from the Industrial Age, to the present Age of Information. Her ancestry is Blackfoot-Cree and English. As a First Nations woman she experienced many hardships, though maintained a spirit of strength, tenacity, wit, modesty, honesty, and sweetness. She faces things as they are; with determination, courage, and affability. Now my grandma is living through another pandemic and the tenuous economic, environmental and social circumstances that are culminating in 2020. She follows current events, is a great story-teller, has the most lovely laugh, and makes a mean blackberry pie. May we all have the indomitable spirit that is embodied in her. She is one amazingly inspiring woman.'
'Mary Ann Shadd Cary' – Publisher
Artist : Ellie Hart
In our current times I wanted to use my art to shine a light and educate and learn more about the great women in history who fought to make our lives better, fought for equality and fought for the freedom to be seen. 
I chose to do a portrait of the first female Publisher in Canada, Mary Ann Shadd Cary. Born October 9th, 1823, she was an activist, journalist, publisher and lawyer. An abolitionist, she became the first female African-American newspaper editor in North America when she edited The Provincial Freeman in 1853. 
'Chris Hadfield' – Astronaut
Artist : Cyrille Saura
Chris Hadfield was the first Canadian to walk in space. In my mind, going out there is an amazing act of courage. I particularly admire his wisdom, optimism and willingness to share this amazing experience with us.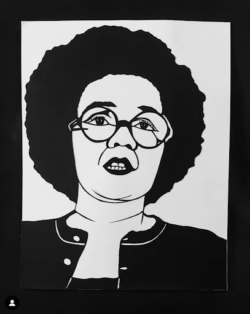 'Rosemary Brown' – MLA
Artist : Val Mac
As a teenage girl growing up in East Van, Rosemary Brown became my role model. She was a champion for women's rights, for those in poverty and for the homeless. As a human rights advocate, she fought for the equality of all. She was the first black female to become a MLA in Canada and a close 2nd to become the Federal NDP leader. Brown became a Professor of Women's Studies at SFU and won numerous awards and accolades in Canada and abroad.
'Donna M Fishwick' – Piano Teacher
Artists : Lucas Yao and Cindy Liu
Donna Fishwick is a well established piano teacher in BC. My son and I painted this portrait for her 81st birthday. She is turning 82 this year but is still extremely passionate about her teaching. She instructs up to 6 hours a day a couple times a week and takes the extra mile to make sure her students are doing well. 
Donna is extremely caring and patient. Our son doesn't love anyone too easily, but he loves his mama and his "music nana" greatly. 
'Erica Elizabeth Wiebe' – Wrestler
Artist : Homa Eftekhar 
When I saw a picture of Canadian gold medalist Erica Elizabeth Wiebe, in the 2016 Olympics, I was amazed at the expression on her face. She had a sense of disbelief in her victory. I knew I had to paint it.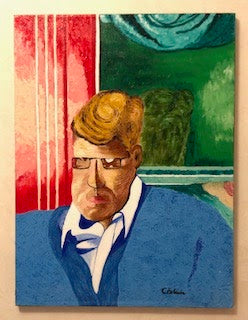 'Mike'
Artist : Caroline Baldwin
Mike is my partner of 25 years and the father of our two children. It makes me happy to see him sitting close to a window, book in hand and reading. He's an honest, warm and kindhearted man, so I didn't think he would mind if I distorted his face in the name of experimentation. As he's always been a Modigliani fan, I wanted to surprise him with his own portrait which I dubbed Modigliani Mike. Although he loves the painting, he says it's got more of a Wyndham Lewis feel.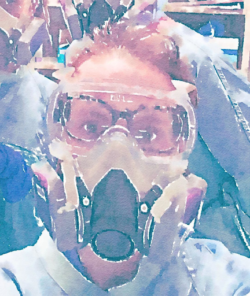 'Frontline Worker'
Artist : Cindy Loo
The person I wanted to depict is my amazing daughter who has been working hard on the front line of the pandemic.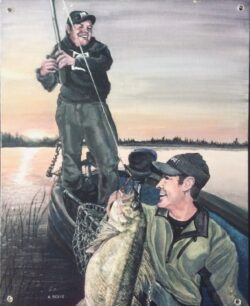 'Father and Son' 
Artist : Carol Reeve
As we are starting to relax some of the restrictions around Covid 19 and are exploring the new normal, one of the sanctioned activities is fishing. Today, both our sons and my husband will be taking advantage of their favourite pastime. 
Thank you to everyone who has taken part so far. Be sure to check out the full spectrum of submissions in our online gallery. We still have lots of themes to explore, so please keep sending us your artwork and stories. 
Congratulations to all 9 artists whose artwork and stories have been featured – each of you will receive a $50 Opus Gift Card!