Art Entrepreneurship as Creative Endeavour
October 2, 2020
Over the past month you've been sharing your artistic projects and the Creative Endeavours Gallery is teeming with inspirational work. As well as taking new ideas to the next level, many of you are successfully making a living or supplementing your income from your art. Here's a small selection of some of the enterprising things you've been up to this fall. 
---
Lizz Miles – Blackberries
Lizz Miles is an illustrator and florist from Ucluelet. Inspired by a love of nature, she takes commissions and has a great selection of vibrant cards and prints for sale on her website. 
'

I'll be selling this in my painting sale soon' 
Instagram: https://www.instagram.com/lizzmiles_art/
Website: https://lizzmiles.com/
---
Anastasiia Muzyka – Galaxy Tray
Ukrainian-born, Pitt Meadows-based artist Anastasiia Muzyka makes beautiful epoxy resin clocks, jewelry, coasters, trays and acrylic paintings. 
'Galaxy Tray now completed with graphite modern handles and the set is ready for sale. DM for more info or just check my Etsy store.'
Instagram: https://www.instagram.com/a.muzyka.art/
Website: https://www.etsy.com/ca/shop/AMuzykaART
---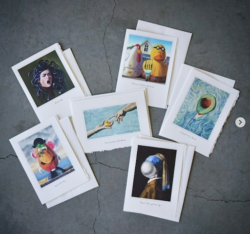 Lorn Curry – Parody Pack
of Cards
Lorn Curry is an artist/oil painter 'posting the good, the bad and the ugly', who adds a good dash of humour to his upbeat creative endeavours. 
'Get that six-pack you've always wanted! Just added the Parody Pack of art cards to the website shop. Check it out!'
Instagram: https://www.instagram.com/lorn_curry/
Website: https://www.lorncurry.com/
---

Sparkle By Silvia – Foxy
Window Art
Surrey-based artist Silvia does window painting and hand lettered signs – murals and  chalkboards, as well as bespoke artwork for weddings and advertising. She also takes commissions for pet portraits. She's submitted this cute and colourful seasonal creation.
'

Hipster

fox poses for cozy fall window'
Instagram: https://www.instagram.com/sparklebysylvia/
Website: https://sparklebysylvia.carrd.co/
---

Jessie Somers – Earrings
Westcoast painter and artisan, Jessie Somers, has shared some of her super stylish, new season jewelry. You can find more of her work in the co-operative gallery, 'Arts Off Main' in Vancouver. 
'Finished a fresh batch of earrings to be delivered to @arts_off_main. I do so love the autumn colours'.
Instagram: https://www.instagram.com/jessiesomersart/
Website: https://linktr.ee/Jessiesomers
---
Sandra Diaz – Colouring Page
Colombian artist, maker, instructor and 'woman of the trades', Sandra Diaz, does illustration, design and woodworking. As well as selling work on her blog, she's shared some inspiration advice for these trying times alongside this piece, encouraging readers to add their touch and collaborate with her. 
'Made this piece into a colouring page! And, used my website to write a blog post about it 🙂 You can read about it, download it, print and colour it at home by following the link in my bio.'
Instagram: https://www.instagram.com/sandradiazcreative/
Website: http://sandradiazcreative.com/blog-1
---
Garrett Moon – Coaster Toaster
Garrett Moon is an artist, creative director, writer, coder and dad. He builds bright and colourful games, gizmos and other creations and his fun and novel coasters have us smiling ear-to-ear! 
'Add some handmade style to your brunch. Avocado toast, also available at no extra charge. Note : they're coasters, people. They don't heat up. No moving parts. Safe for the bathtub.'
Instagram: https://www.instagram.com/moon_rover/
Website: https://www.instagram.com/moonstationdesign/
---

Simi Kirin – Ocean Resin Table
Simi Kirin designs resin art and jewelry out of Kelowna. Her stunning, oceanic-inspired creations are channelling sea air to the heart of the Okanagan. 
'How the Turn Tables'
Instagram: https://www.instagram.com/oceanresin/
Website: https://www.etsy.com/ca/shop/oceanresinartist
---
Jasmine – Ocean Child Creative Cards
Victoria-based artist Jasmine is also influenced by the waves and BC coast. She sells gorgeous cards, prints and stickers off her website and has this to say about her latest creative endeavour: 
'I'm in the process of designing new ocean child products for the holidays and beyond. Head on over to my stories today to have a say on what all the newest creations will be!'
Instagram: https://www.instagram.com/oceanchildcreative/
Website: https://www.oceanchildcreative.com/
---
It's great to see so many of you engaged and exchanging with your local communities. Whether it's a side hustle selling cards, an online art workshop business, or you're a full time professional artist, please continue to share your projects. Find out how to participate in the Opus Creative Endeavours Gallery for a chance to be featured in our next article, here: https://opusartsupplies.com/opus-creative-endeavours/ 
And be sure to check out the rest of the great ideas in our gallery. 
Stay inspired, stay imaginative and keep making! 
By All Means Create