Finding The Perfect Canvas
April 7, 2020
"Many painters are afraid in front of the blank canvas, but the blank canvas is afraid of the real, passionate painter who dares and who has broken the spell of 'you can't', once and for all." –

 Vincent van Gogh
Wise words from VanGogh, sometimes easier said than done. Those first brush strokes can be daunting, but knowing how to choose the right surface can make all the difference to your painting experience. 
---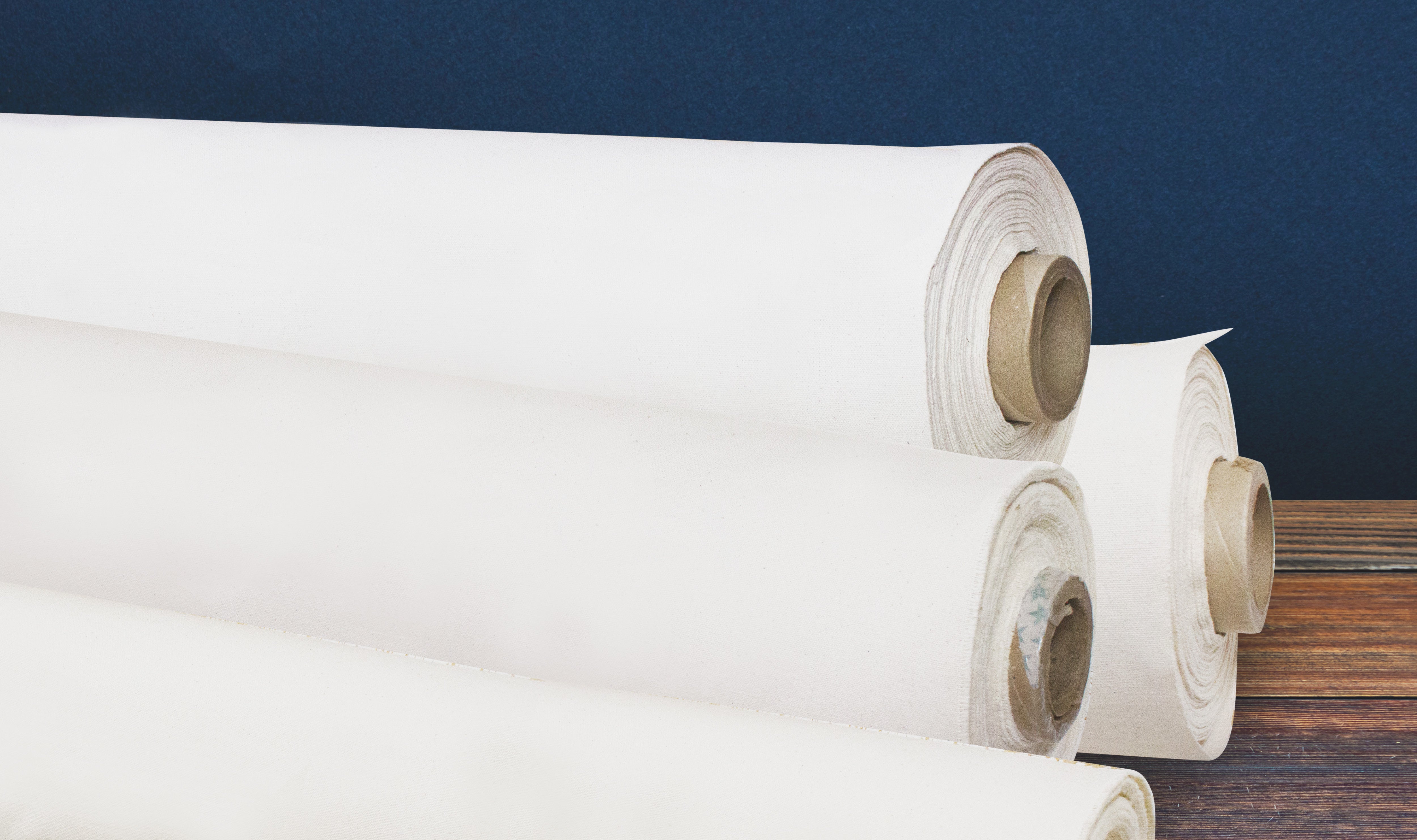 Whilst many fabrics exist, the most common fibres to paint on are cotton and linen (flax). Different combinations of material, weight and surface preparation will affect the painting experience and final look of your piece. 
COTTON
Although not as strong or durable as linen, cotton is the most common and popular painting surface. It is a good economical option, available in a broader range of qualities, sizes, weights and styles than it's more traditional counterpart. Cotton also provides a more uniform texture and there are many varieties that are considerably robust and resilient. It's relatively easy to stretch and stays tight on the bars.
Regular Ounce Canvas
A good general purpose material for small to medium sized works or mixed media and collage. It is 'Singled Filled', identified by two individual warp yarns woven side by side and one yarn woven in the weft direction. The weave is usually noticeable and loose, providing a flexible surface with low to medium tensile strength. 
These fabrics can shrink by up to 10% and are determined by their ounce weight, ie a 10 ounce canvas weighs approximately 10 ounces per square yard. 
Numbered Duck Canvas
This is a 'Double Filled' canvas. While constructed with the same flat weave as Regular Ounce Canvas, the warp and weft are made of plied (twisted) yarns. It has a higher thread count, is stronger, more durable and shrinks less than 2%. Numbered Duck is an ideal material for large works, floorcloths, table coverings, large banners or textile items. The lower the number, the heavier the canvas (i.e. 10 Duck). The higher the number, the lighter the canvas (i.e. 13 Duck).  
The rough surface of 10 Duck Canvas can be pronounced with successive paint layers, adding pattern and texture to your piece. The smoother surfaces of 12 Duck and 13 Duck canvas are ideal for more detailed blending techniques, portraits or for those who prefer to build up successive layers of gesso for a surface that has minimal to no texture. 
LINEN
Due to its qualities of excellent tensile strength, longevity, distinctive irregular texture and natural greyish brown colour, this traditional fabric is considered to be the very best support for painting. It retains its natural oils which preserve the fibre's flexibility, preventing the canvas from becoming brittle. The warp and weft threads weigh the same and are less susceptible to the expansion or contraction caused by moisture. Because of its strength, linen is resistant to tearing and puncture. It holds up to a heavy painting hand and does not become slack as easily as cotton. It can be difficult to stretch and prime properly, but once the technique is mastered, it provides the smoothest and stiffest painting surface. However, linen is considerably more expensive than cotton as additional steps are required to process the flax fibres and its inelasticity makes it harder to weave. Cotton canvas is also more widely available. There are many non-art uses for it and the lower price is the result of a more saturated marketplace. 
In saying that, many artists are still drawn to the magic of painting in oils made with linseed on a linen canvas. Not only are they following in the footsteps of masters, but there's something romantic in the fact both paint and fabric are made from the flax plant.  
Choosing Your Canvas
Knowing the characteristics of each type of canvas is the best starting point. 
Next, determine what material would work best for the requirements of your project. If stretching canvas, the final size will determine the weight you use. For small to medium sized surfaces, 7 oz or 10 oz is sufficient. For larger sizes, it is best to use a heavier and more reliable Duck canvas. Primed canvas is a good choice for those wanting to save time priming it themselves, however it requires more work to stretch tightly. Consequently, pre-primed fabric is best for small size stretcher frames. The type of media you use and your personal preference will also factor into what you choose. 
Cotton canvas rolls and folds are a convenient way to buy un-stretched canvas and offer a great option for travel or storage. They are available in all the more popular weights and sizes. 
Stretching
Many professional artists create bespoke surfaces but anyone can benefit from stretching their own. A handmade canvas is not only more economical, but painting on a surface you've made to your individual specifications is undeniably rewarding. 
We sell fabric both in full rolls and by the metre. It's important to note that primed canvas can crack when folded, so we will always send rolled. Raw (unprimed) canvas can be folded and shipped at a lower cost. 
Remember to measure and account for the amount you'll fold up the sides or around the back of your bars, plus the additional fabric you'll need to grab and pull with your canvas pliers. You'll later fold this under or trim it away. With primed canvas, as the fabric has little give, pliers are imperative.