Opus Daily Practice Challenge
January 25, 2021
Join us from February 1–28 and be a part of the Opus Daily Practice Challenge!
Practice makes progress! Connect with your arts community, keep your creative momentum up with a daily challenge throughout the month of February, and imagine how your personal or professional art practice will be enhanced. The Opus Daily Practice Challenge is for everyone who wants to improve their skills and exercise their imagination, no matter what level you're at. Take it on in a big way, or make small steps with daily doodles!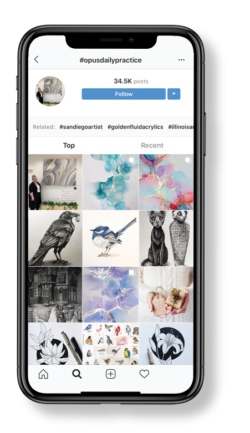 Follow us on Instagram @opusartsupplies to see the daily #opusdailypractice prompts and tag your posts with #opusdailypractice for a chance to be featured!
Testimonials from past participants:
"Thanks for the wonderful challenges Opus, it was so much fun. I loved the challenge of the prompts. Looking forward to next year's challenge." @Capercaille74
"Thanks for the daily reminder to practice! It was great to be a part of this year's challenge! I especially loved the 'space' prompt." @Lovelittlenikki
---
#OpusDailyPractice Guidelines
Your goal is to get creative and have fun, so the guidelines are simple:
1. Practice your art every day. Paint, draw, colour, photograph, carve, fold, create! Your mission is to just practice so, whether you can set aside minutes or hours, be sure to engage your creativity daily.
2. Share your progress. Connect with your creative community via social media posts tagged with #opusdailypractice on Instagram, Twitter, and Facebook. This will connect you with others participating in the challenge, providing support and inspiration!
Instagram: Tag your posts with #opusdailypractice and @opusartsupplies. Please note that we may not be able to see your posts if your Instagram account is not set to public.
Twitter: Tag your posts with #opusdailypractice.
Facebook: Post your daily images to the Opus Facebook Page as a comment to our daily posted prompts and take a peek at what others are working on – there's plenty of inspiration to be found in your creative community.
---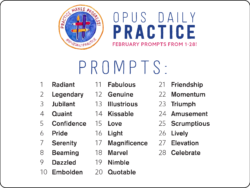 ---
Products to help with your daily practice!
---
Get Inspired with Daily Practice Videos
Check out our Opus Daily Practice video series with artists sharing their observations about creating daily.
Practice Makes Perfect with Veronica Roth
Practice Makes Perfect with Tristan Noone
Drawn Out: 365 Days of Drawing with Michael Markowsky
A Step Forward: Just Practice with Aska Djikia
---