The Romance of Dusk and Dawn Using Colour
May 4, 2021
Let's face it, there isn't much that can beat the beauty of an early morning sunrise or a warm sunset! It doesn't matter where you are, the sight will leave you in awe. As you witness this transition of colour temperature, going from daylight to nightfall (or vice versa) you might want to capture this moment in time. While initially tricky to get your instant result, with practice, one can bring through the romance of dusk and dawn. This comes down to basic observations, lots of experiments, and some good old-fashioned colour theory. With the right application of these methods, you can really bring these nuances to life within your painting.
For sunrise or sunset lighting scenarios, there are two main secrets; controlling your values and making the brilliant colours stand out with contrast. Depending on the sunset you've got in mind, knowing that sunsets have the primary colours mixed in with its complementary colour is a good start. You'll want to include a yellow, orange, red, blue, dioxazine purple, and potentially a white (though too much can desaturate the colour), plus something for those darker shadows lurking in the clouds such as a Burnt Umber or Payne's Grey.
The contrast between the sky and the ground is also key. Consider where the glow in the sky comes from. If you break a sunset down it's essentially a bright sky with loud colours, bright in value over a dark silhouette. You want the lightest light on the land to be darker than the darkest part of the sky to accentuate where the glow comes from. Start your experiments and soon you'll be capturing that "Golden Hour".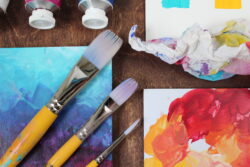 For those early risers looking to capture "dawn's early light", amazingly enough, the sunrise colour choices are very similar to those used in your sunsets. Sunrises can have slightly cooler yellows, pinks & blues, whereas sunsets can have warmer reds, purples and blues. That being said, this is not always the case so, your observation skills will need to hone in on the subtle and brilliant changes that begin your day.
Opus Essential Acrylic Paints for Your Sunset or Sunrise:
Artists Who Inspire Us:
"In my paintings, I use multiple layers which gives me the opportunity to express nature in an abstract way, to encourage the viewer to be moved by its beauty, and to create a mood that will seduce the eye and inspire the spirit. In life there is always something going on beneath the surface, I want to encourage this inner exploration and engage the viewer in a visual, tactile and emotional experience. Some compositions are easily understood, while others are more complex inviting the viewer to look below the surface to see what is really there"
"After moving back to Vancouver in 2013, Cait became inspired to paint the landscapes that surround her and have significance to her. These include many of Western Coastal Canada as well as from her travels around the world. Both at home and away, Cait is constantly chasing sunsets and the sea."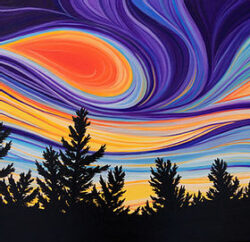 "Uncharted territory. I've never attempted a painting where I've had to consider the marriage between light sources, shadow, perspective, contrast, depth and composition so simultaneously as I have with this piece. All while trying to seamlessly combine photorealism with abstract/impressionism without any preplanning."
---
 More Useful Products:
---