Tools of The Trade: Golden Mediums
January 6, 2021
Golden Artist Colors has created hundreds – if not thousands – of products since their initial startup in 1980. GOLDEN tend to think of their acrylic-based materials as tools. Like most garages, sometimes a few tools go missing. During the search for a specific tool, we often rediscover a long-forgotten apparatus along the way, and we encourage you to go through your painting supplies and experiment with one or two products you've hardly used. If it's colour, tint it with white, extend it with a Medium, or use it in place of a go-to colour and see the difference it makes to your colour mixtures.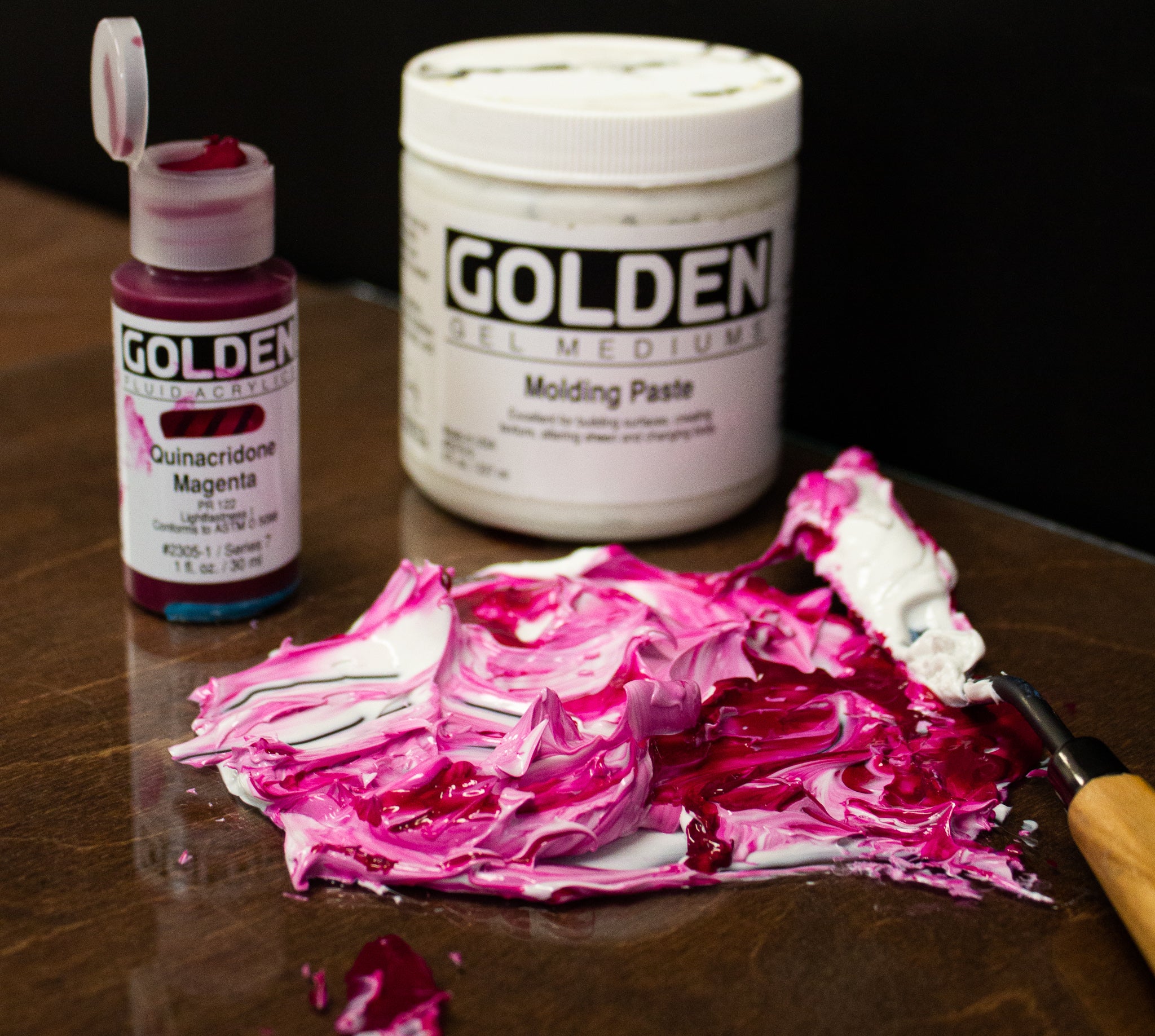 As with specialized shop tools, there are painting products that could have been the perfect contrivance for your painting had you only known about it. Let's go through some mediums you may not know about that can really change up your art!
Gritty Stuff:
Fine Pumice Gel: Artists like big grit. Huge chunks of a dormant volcano rock are used in GOLDEN's Coarse and Extra Coarse Pumice Gel, and they get all the attention. Fine Pumice Gel uses a "finer" particle size of the same pumice. It's just toothy enough to receive drawing media and predates the Pastel Ground as GOLDEN's response to multimedia artists' desire for a surface that accepts chalk pastels, graphite, and charcoal. Pastel Ground users may even prefer the oh-so-finer particle size for detail work. Adding some water makes it near invisible over an underpainting.
Coarse Alumina: According to www.aluminum.org, bauxite ore is mined to create Alumina Oxide, of which approximately 90% is refined and made into aluminum, and 9.999% is used for making abrasives and sandpaper.  GOLDEN's Coarse Alumina is made using 0.0001% of it and is the only paint company using it to make a painting texture. The gritty gray particles are blended with acrylic gel to make it easy to spread onto a surface. The texture is unique and rough and compliments iridescent paints with its dark appearance. Be the envy of your local art community!
Clear Granular Gel (#3215):  Sure, Glass Bead Gel gets all the attention with its optical reflectivity, but these irregularly shaped bits of acrylic resin found in Clear Granular Gel are visually interesting. If you add White Gesso, it will look like cottage cheese. If you add Black Gesso, it looks like model railroad coal. Imagine if you were to add a couple of Fluid Acrylic drops to create translucent colour glazes (or look at the image below with Sap Green Hue).
Gel Mediums:
Silkscreen Medium (#3690): If you do a lot of silkscreen printing, you probably use commercial products such as UV-curable inks or plastisol based inks. If you only occasionally screen print or need to do a short run, then Silkscreen Medium might be the right product for you. Blend equal parts (or more) with Heavy Body or Fluid Acrylics for paper, wood, canvas and other non-launderable materials. Silkscreen Medium can also be used as a slow-drying painting medium.
Super Matte Medium (#3531): Some acrylic paints, gels, and mediums are just too darn shiny. But you already bought and paid for them, so you might as well use them. Adding Matte Medium or a Matte Gel to the paint can only somewhat lower the gloss unless you add a very high percentage. But just 10-20% Super Matte Medium can make glossy paint quite matte, quite quickly. Super Matte Medium is a safer alternative compared to dry and fluffy powdered matting solids.
Gloss (#3746) and Semi-Gloss (#3747) UV Topcoat: Perhaps artists don't know what a topcoat is. Perhaps they expected this topcoat to be liquid, like varnish. Whatever the reason, this is still a great painting medium. GOLDEN has added the same ultraviolet light stabilizers as what's in GOLDEN varnishes. UV Topcoat can be used over water-resistant ink-jet prints, collage and multimedia work, or whenever you've used not-so-lightfast materials in your artwork. Although intended to create brush and tool marks due to its thickness, it can also be thinned with water to create a thinner, more levelling medium.
---
This Article shared with us by our friends at GOLDEN, written by Michael Townsend
---
Discover GOLDEN Mediums, Gels, Pastes, and More…